Surviving or Thriving? What makes the difference in industrial metal-cutting?
Download this eBook to see where industry leaders are focusing their efforts
If you're committed to continuous improvement, you'll want to explore this eBook to find the approaches that are increasing performance for industry leaders.
Five Performance-Boosting Best Practices for your Industrial Metal-Cutting Organization highlights five best practices that can make a difference in your operations and, more importantly, on your bottom line.

Included are best practices for:
Getting lean: How it's evolving, what the tools are and how it can work for high-mix operations
Investing in human capital: How you can get started addressing the skills gap today
Focusing on quality: How ISO 9001 and other strategies bake quality into the business

Embracing preventative maintenance: What strategic PM is and how you can get operators involved
Forming strategic supplier relationships: How you can make the most of what key suppliers have to offer
Complete the form below to get your ebook.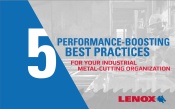 By downloading, I agree I would like to receive emails from LENOX regarding news, updates, offers and promotions regarding LENOX products. I understand I may withdraw my consent at any time. Please refer to our Privacy Policy or Contact Us for more details. Your consent is sought by Irwin Industrial Tool Company, the owner of the LENOX brand.